Update! Adopted!! Heidi and Jake!
These beautiful photos are generously provided by: Tammy Gann Photography at tammygann.com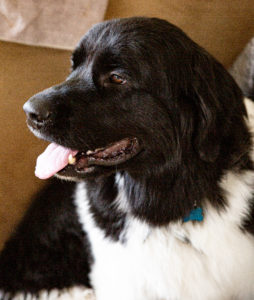 Meet Jake and Heidi!!! Jake and Heidi are 2 year old Newfoundlands. They came to Chance, after they suddenly lost their owners.
Jake #2020-01
Jake is a chocolate brown neutered male and weighs approximately 135lbs. Jake has a big deep bark but only uses it when he feels that there is something important that needs a warning signal. Generally, he has a very mild disposition with those he is close to, but does get protective and will bark if he feels that protection is needed. Jake is about 10 or so pounds overweight right now, but we at Chance are confident he will slim down with the proper diet and exercise. Jake has no known health issues.
Heidi #2020-02
Heidi is a black and white spayed female, and weighs approximately 109. Like Jake, she needs to lose a few pounds. She is a sweet girl and also very mild mannered. She loves to walk between your legs and would definitely cuddle with you on the bed if allowed, if not, she is okay in her own bed. After a recent vet visit, she is being treated with antibiotics for a possible urinary tract infection and crystals in the bladder. The vet is hopeful that she will be all set after taking her antibiotics.
Chance Shelter has had these pups a short time but we are working hard to fully understand their personalities better. So far, we have seen that they have sweet dispositions, are pretty mellow, and make great companions.
We have also learned that Jake and Heidi:
Are nearly inseparable and must be adopted together.
Are comfortable with people once they spend a little time with them.
Need to be placed in a home with no children as they are very large and still need training for better manners.Are not destructive when left alone in the house.
We do not know if they are good with other dogs or cats. We do not recommend you adopt them if you have cats due to their size and puppy like energy.
Jake and Heidi's foster mom believes that with just a little training, they will make great pets in the right home! If you are ready and believe you have the proper new forever home to offer to these two absolutely loving dogs please fill out an adoption application on this website.